Onze school
Ben jij een enthousiaste leerling die graag met zijn handen bezig is? Lees dan verder over onze bedrijfsschool van Heerema Vlissingen!
Onze missie is om de leidende aannemer te zijn in de offshore business. Met daarbij het doel om het onmogelijke mogelijk te maken. Om dit voor elkaar te krijgen is het voor ons van groot belang om te investeren in leerlingen, want jullie zijn de toekomst. Bij onze bedrijfsschool krijg je de ruimte om jezelf te ontwikkelen en de vrijheid om zelfstandig aan de slag te gaan. Daarnaast stellen we een persoonlijk leerplan op, zodat elke leerling zichzelf ten volste kan ontwikkelen!
De opleiding
Tijdens onze mbo bbl-opleiding word je opgeleid tot allround constructie werker (fitter). We begeleiden beide niveau 2 of 3. Hoe ziet jouw typische week eruit?
1 dag per week naar het Scalda in Vlissingen = Theorie
1 dag per week naar Metaalwerk Vlissingen = Praktische Theorie
3 dagen per week bij Heerema Vlissingen = Praktijk
In onze bedrijfsschool kan je jezelf specificeren in lassen, fitten of allebei. Je gaat werken aan grote en kleine projecten, het ligt allemaal aan wat jij zelf aan kan.
Salaris
De bedrijfsschool is voor de leerling volledig gefinancierd. Ook krijg je een maandelijks loon gebaseerd op het minimumloon voor een bbl-opleiding, bepaald door de rijksoverheid. Het startsalaris voor een 15 jarige student is 589,30 euro bruto in de maand. Bij een goede afronding van de opleiding maak je kans op een vast contract bij Heerema Vlissingen.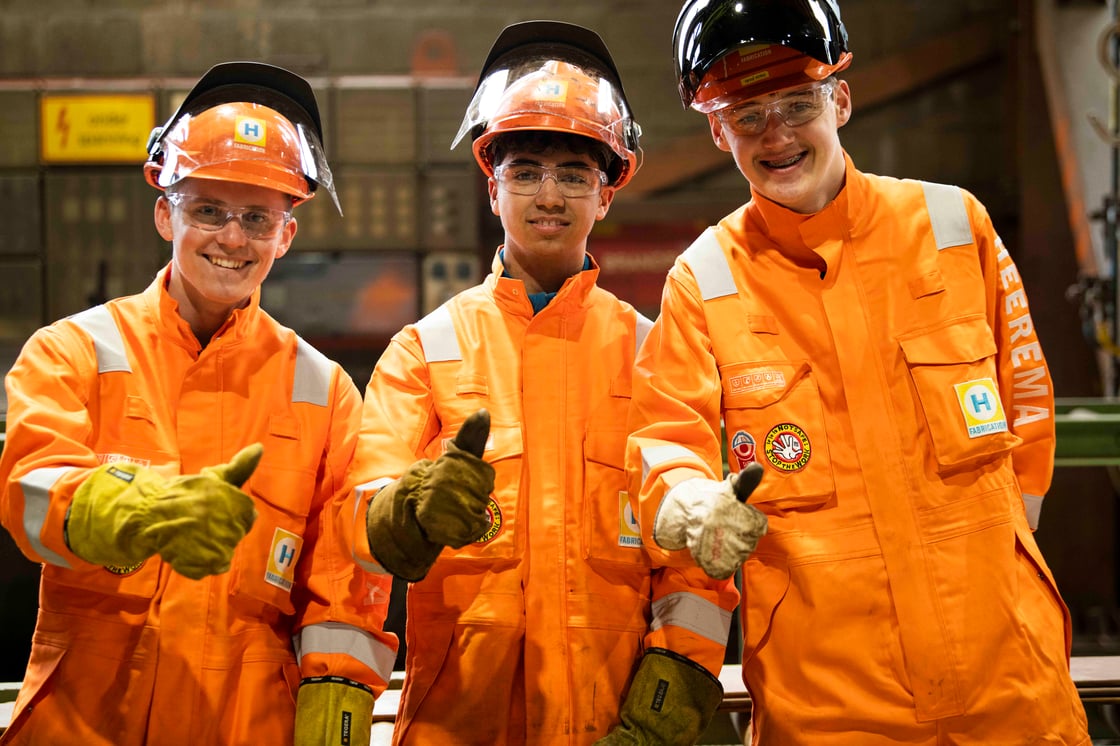 Inschrijven
Wanneer je interesse hebt in onze bedrijfsschool, kan je contact met ons opzoeken en dan plannen we zo snel mogelijk een gesprek in. Is de klik goed tijdens dit gesprek? Dan kunnen we samen gaan praten over jouw toekomst bij Heerema Vlissingen. Let op! Er zijn een beperkt aantal plekken beschikbaar. Wil je starten op onze bedrijfsschool of wil je graag meer weten? Stuur je aanmelding of vragen op door hieronder te klikken! 👇 Of stuur een WhatsApp bericht naar 06-16080334.
Ben je nog aan het rondkijken en wil je graag meer weten? Check dan onze open dagen!
25 februari 2023 van 09.30 +/- 12.00 uur. Kom samen met je ouders langs. We gaan beginnen met een korte presentatie over ons mooie bedrijf. Daarna is het tijd voor een rondleiding over onze werf. Na een kleine pauze gaan jullie zelf aan de slag! Meld je voor 22 februari aan door contact op te nemen.
6 mei 2023. Verdere informatie volgt nog, houd onze website in de gaten!